Windows Server 2016 Support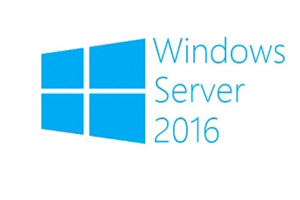 Windows Server 2016 is a server operating system developed by Microsoft as part of the Windows NT family of operating systems, developed concurrently with Windows 10. It helps small- and medium-sized businesses deliver greater value to their organizations by enhancing virtualization, networking, storage, user experience, cloud computing, and automation. The solution focuses on 3 main areas: firstly, providing a comprehensive cloud-based platform to support data centers; secondly, cutting costs while enhancing overall efficiency; and lastly, enabling BYOD (bring your own device) policies.
Windows Server 2016's newest features include:
Nano Server - a headless, GUI and command prompt-free Windows Server installation option that features 93% smaller VHD size, 92% fewer critical bulletins and 80% fewer reboots.
Server and Hyper-V Containers - isolate applications from underlying OS to improve application deployment and reliability.
Docker Support - an open-source engine used for building, running and managing containers.
Nested virtualization - enables you to run Hyper-V within a Hyper-V virtual machine without limiting the Hyper-V role on a physical server.
Host Guardian service - allows you to protect virtual machines and data from unauthorized access – even from Hyper-V administrators.
Benefits of Windows Server 2016 Support include:
Two versions of Windows Server (Standard and Datacenter) simplifying CIO management
Data deduplication helps eliminate up to 90% of duplicated space across operating system installations
Cortana, Microsoft's new virtual assistant that helps you complete daily tasks such as making calls or scheduling reminders
Streamline data flow and flexibility while saving money due to diskless server boots
Enhanced Hyper-V 3.0, doubles as a VMware killer which helps with the data center virtualization
Dynamic Access Control helps enforce domain-level security measures to maintain proper network security
For any questions regarding the installation, migration, or troubleshooting of Windows Server 2016 Support, feel free to give us a call or send us a message for further information.